Last updated on May 16th, 2023
The concept of remote working is by no mean a new trend; in fact, it is significantly getting popular these days, particularly during this pandemic period. Many companies and organizations have been forced to go on a temporary shutdown, leaving them no choice but to ask their workers to work from home.
However, some people still find it difficult to adjust to the remote working concept, as they are already used to the typical office settings and office desks. They are overwhelmed with how it will look, where to start and how to ensure they are productive, happy, and healthy as they used to be.
It's important to note that before the outbreak of the coronavirus pandemic, the idea of remote working is by no means a new thing. At least, six out of ten companies offer their workers the chance to telecommute, and 43 percent of all employees work at least some of the time remotely, according to the latest workplace statistics from Gallup. This is three times higher than it was in the 1990s.
The good news is working from home can be exciting and productive as you can ever imagine. All you need is to get the necessary home office setup to make your work enjoyable and productive. And that is exactly what I want to show you in this blog: How to work from home with great home office setups in 2022.
1. Define Your Space
I am forced to include this on your list because it is the most crucial factor you should look into when setting up your home office. Do you have a vacant room in your house that no one is occupying at the moment, and it is far from distractions? YES? Then, that is your new home office space. Even if you don't have a ton of room to convert to an office, you can dedicate a small portion of your house to your office space. This can be the sitting room, kitchen or dining.
Meanwhile, it would be great if you can create this office space somewhere close to the window to make the best use of your WFH hours. The idea is natural light enhances more productivity and makes work as pleasurable as possible.
2. Office Desks and Ergonomic Chairs
Buying a conducive office desk and ergonomic chair should be the first thing on your shopping list when setting up home office furniture. Although, you should first consider your workspace when buying your desk. Either you are using a room or an open space, ensure your desk fits in the space easily and create some free space for other important home office furniture and equipment.
Getting a good ergonomic chair is non-negotiable if you want to enjoy your home office experience. An ergonomic chair helps you maintain good sitting posture at work, save your back and neck pain, and make your job easier and more productive.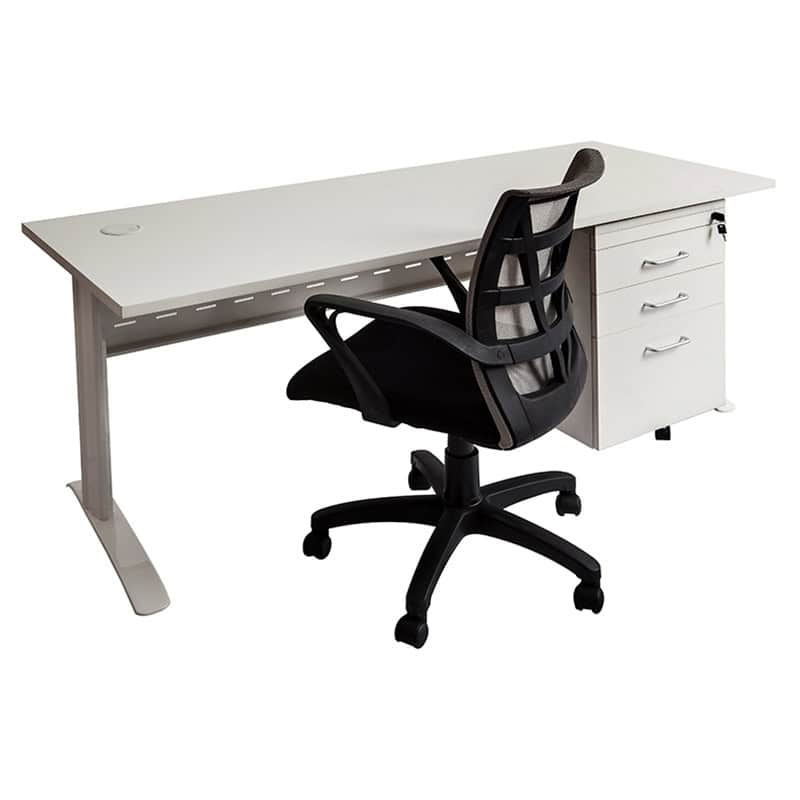 3. Laptop or Desktop
I will strongly advise you get a good desktop for your home office to keep up with the regular office standard. Plus, the main reason most offices use desktops instead of a laptop is because of its ergonomic features. I mean, you can conveniently sit up on your chair, look up to your flatscreen monitor, with your hand flipping through your mouse. Meanwhile, don't forget to buy other necessary things like UPS for your computer backup in case there is any power failure.
However, if you are on a low budget with limited time to plan your home office space, you can stick to your PC or MacBook for the main time. Brace your laptop with a book while sitting conveniently at the desk, buy an external mouse to make scrolling much easier. You can also consider using an external mouse if you are not used to the laptop keyboards.
4. Technology and Lightning
Of course, your home office space will need adequate lighting to help you concentrate and be more productive at work. White lightbulbs are the best choice as they will brighten everywhere to give you the usual office experience you are accustomed to. Moreover, you wouldn't like to deal with headaches and eye strains because you are squinting in light that is not comfortable for reading.
Technology like printers, scanners, photocopiers, telephones, network routers, etc are prime importance to give you a great home office set up. You can consider buying a multipurpose machine that can print, scan and do photocopies. This will save you a lot of money and space, and you would still achieve the same or similar results. An excellent telephone to communicate with your other colleagues and a good quality network router to give you a fast and secure network.
5. Storage Cabinets and Other Facilities
Working from home doesn't mean you should litter your house with files and other materials. It will discourage your productivity, and before you know it you will start looking for one thing or the other. It would be a good idea to buy a filing cabinet to keep your files and other hard copy materials safe.
You will also need a rack or bookcase to keep your pens, sticky notes, inks, cards and other supplies to keep your home office clean and neat and tidy. You also need a recycle bin for disposing of things that are of no use.
Wrapping It Up
Working from home in 2022 might sound like a little challenge for those who are not used to the WFH procedures. By following this guide will give you a new impression about remote working, and before you know it, you will love it more than your conventional office style.
You don't need to spend a fortune before you get your home office furniture setup. Much of this equipment is available at different price points, but whichever you want to go for, ensure you do not compromise on quality. You can order some of the equipment on your online store, and they are all available in the best quality, to give 100% satisfaction. Please email us if you have questions on any of our products or services.