The percentage of all Australians who work from home full time has reached 30% – that's roughly about 3.5 million people.
In reality, the number is even higher. Since the majority of people who work at company offices still bring some workload home. But you won't hear many complaints. In fact, people report that they feel much more productive when they are away from office murmur and constant interruptions. Managers as well support the claim that their workers deliver better results when they are allowed to work from home.
But for most people to reach high productivity levels, it's not enough to sit back on the couch with a Mac on their lap. They require a separate room or a specially designed corner. Where they'll manage to gather their thoughts and concentrate on their workload.
Here are a few office design ideas from us, for both large and spatially-challenged rooms.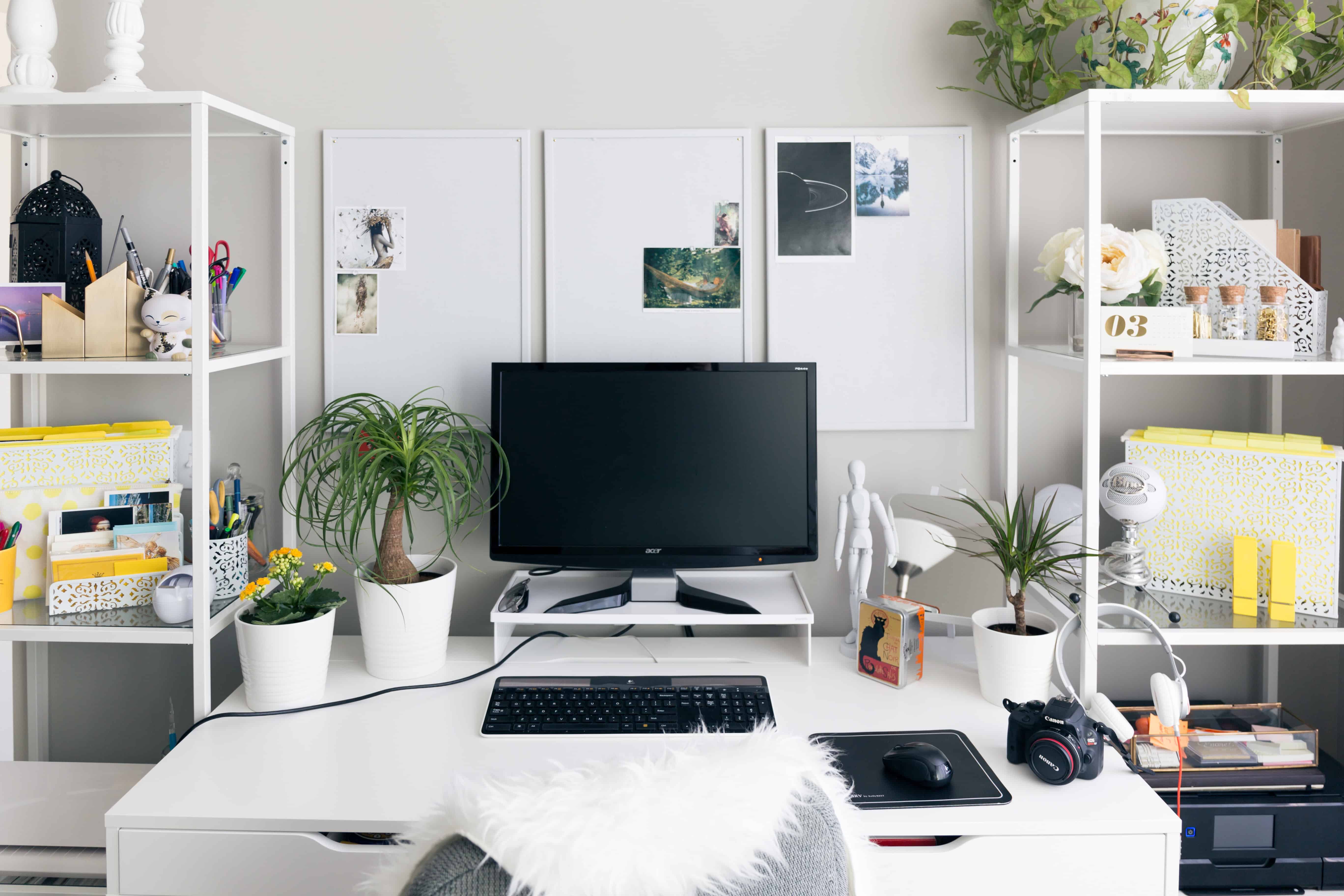 Create focus areas
Are you looking to run an entire business from home? Then we recommend organising the space that would be as functional as an office building. Certainly, you will be limited by the number of square meters, and that is why we propose positioning your home office furniture in such way that you get separate focus areas for different activities in one room.
For instance, if you are going to welcome clients from time to time, it is essential to reserve a part of the room for meeting activities. Depending on the amount of available space, you'll decide between a boardroom- or lounge-like conference design. If you can fit a medium-sized boardroom table and minimum 3 or 4 chairs, you can set up a more professional environment. On the other hand, many who want their office to reflect a warm homely atmosphere opt for sofas, ottomans and a coffee table.
Your work area should be visually separated, and usually, the most practical solution involves positioning an office desk behind the sofa. This way you can face the room and not the wall, that way avoid the claustrophobic feeling.
Allow movement
In recent years, talks regarding a healthy workplace revolved mostly around the hazards of a sedentary lifestyle. As a result, a modern (home) office includes a height adjustable desk that allows you to either sit or stand while working.
These allow you to get up from time to time and stretch your feet even in the smallest of rooms. Even people who spend all of their time working in a sitting position appreciate the fact that it can be perfectly adjusted to fit anyone's height. Namely, in combination with an ergonomic office chair, you can easily set up the most optimal seating position that will benefit your health, but also productivity levels. All in all, these two modern furniture pieces are an obligatory 21st-century office design element.
Declutter and organise
Although the majority of our work essentials are stored on our computers, for most people it is impossible to go 100% digital. From accounting records and organisers to old books you still refer to from time to time, and office miscellaneous. If you don't select the appropriate home office storage furniture you will quickly end up with a messy work area. If you're unable to organise the space in such way to include an edge hutch or a cupboard, you can select one of the drawer filing cabinets that can fit under the desk.
Would you say that a multitude of cables is an unavoidable eyesore of every modern workplace? Wrong –  all you need is the right electrical accessory. From an in-desk power hub to an under-desk cable basket, there's a solution for the mess every modern worker struggles with.
Set up a dual workstation
If your roommate or a partner requires a home workstation of their own, and your small apartment cannot accommodate two separate working spaces – share one.
This is especially advisable if the two of you frequently collaborate on the same projects. You could benefit from a large conference-size desk where both of you would get the sufficient personal space and still get to work together. Alternatively, if you concentrate better when isolated, a desk mounted screen divider can do the trick for a home office, too.
Keep it personally neutral
What do we mean by this? First, let's consider the colour of your modern office. While a range of shades can warm up the atmosphere. Different colours evoke different emotions, which can easily mess with your focus. Thus, it is advisable to opt for neutral tones, and no – that doesn't necessarily mean white. It can be quite cold and sterile so any discreet pastel shade would serve as a better option.
To add a bit of flair to your home office design, enrich the space with your personal items. Whether it means incorporating pictures of your loved ones or laying down a few candles and potpourri. You will elevate the overall design and create a homelier atmosphere.
Bottom line
Recognise the potential of your home office space, regardless of its size. With the right furniture elements and decorative ideas. You can design a productive oasis where you'll do more work than you would in any high-end office building.