Last updated on August 9th, 2023
The recent studies of safe work Australia show that sitting for a long period of time is not good for your health. In workplaces where employees sit for 8 or more hours at the computer, are at risk of serious health problems like musculoskeletal disorders, heart disease, diabetes, and obesity. These issues may arise as a result of insufficient physical movement and muscle engagement, limited energy expenditure, inadequate physical activity, and infrequent changes in posture.
To help prevent all of these all diseases, they suggest that you should do at least 2.5 to 5 hours of activity per week. This activity should raise your heart rate. Try to avoid sitting continuously for long periods without a break.
What does this discovery mean for company owners, HR Managers, and Executives who wish to promote a healthy work environment?  It means that you should pay close attention to sit and stand desk trends that are developing because they are beneficial to your employees' health. Before you go off and purchase a height-adjustable desk for your office space, check out what's trending so that you can get a good idea of what's available.
Here are the Top 7 Stylish & Trending Height Adjustable Desks in 2023:
1. Portable Desks
A change of scenery is a good thing.  When people want to work in a different area to switch things up, they hesitate because they can't find a physical space to work.  If you want your employees to feel free to move around to stir up creativity and energy, look into portable sit-stand desk options.
Products like the Solo Portable Personal Electric Height Adjustable Sit Stand Desk do an excellent job of allowing workers free reign of the office.
If you are looking into a product that caters to mobility, make sure it is equipped with a rechargeable battery pack so workers are not limited to moving to spaces near to a power source.
| | |
| --- | --- |
| Desk Top Colour | Natural Oak, White |
| Desk Base Colour | Black, White |
| Rating | 10/10 (Reevoo rating) |
2. Stationary Electric Height Adjustable Desks
You can also consider stationary electric height adjustable desks if your office space is better suited to something more permanent. What makes the electric standing desk a great option is that workers can go from sitting to standing with the push of a button. There are various electric height adjustable desks that you can offer your employees, depending on their style and the storage options they need.
The layout of your office will determine the type of permanent sit-stand desk you can use.  In some cases, a corner sit-stand desk like the Smart Electric Height Adjustable Sit Stand Corner Workstation is the best option so that you can maximize square footage.
| | |
| --- | --- |
| Size | 1200mm Left Hand, 1800mm Right Hand |
| Desk Top Colour | Beech, White |
| Drawers | No Drawers |
If your workers prefer that their desks be more of a focal point in your office, there are options similar to the Smart Electric Height Adjustable Desk.  Storage can complement both of these height-adjustable desks.  There are various mobile drawer storage options you can purchase to go with your desk that have the flexibility to be easily moved out of the way if necessary.
You can also customise the look of both corner and traditional desks.  They come in a variety of colour choices with several desktop surfaces to choose from.
If you are looking for something more permanent, explore the options for stationary electric height adjustable desks.
3. Manual Crank Sit to Stand Desks
Not everybody loves all the bells and whistles that come with electronics.  Some employees might prefer a standing desk that they can manually crank.  When you have precise control, you can find the exact comfort spot.
| | |
| --- | --- |
| Desk Size | 1200mm wide x 700mm deep, 1500mm wide x 700mm deep |
| Desk Top Colour | Beech, White |
| Drawers | No Drawers |
| Rating | 10/10 (Reevoo Rating) |
Sometimes, you can't get your finger off the trigger fast enough to get the electric desk where you want it.  With the manual crank standing desks, the control of a half a turn can make all the difference in comfort.
4. Desktop Standing Desks
Office makeovers are tough to manage.  Some people like their space and don't want it changed around.  If this is the case at your workplace, there are ways to compliment your traditional office desk with a desktop standing desk.
| | |
| --- | --- |
| Size | Medium, Small |
| Colour | Black & White |
| Warranty | 10 Years |
Products like Move Desk Top Height Adjustable Stand are an excellent solution for converting your conventional desk into a standing desk.  They are manageable and easy to store.  Just pick them up and put them on your desk, and you can reap all the benefits of getting up without the need to remodel your office space.
5. Standing Desks with Attached Credenza
Storage is a must when it comes to a workspace.  If you want to offer your employees height adjustable sit stand desks but are afraid about storage options, you don't have to worry.  Products similar to Deluxe Executive Electric Height Adjustable Desk with Attached Credenza are well worth considering.
| | |
| --- | --- |
| Return Option | Left Hand – When Seated, Right Hand – When Seated |
| Colour | Casnan/White, Virginia Walnut/White |
| Warranty | 3 Years |
Workers get the option to keep their bits and pieces close to them in the attached credenza, but they don't have to sacrifice the standing desk benefits.
6. Executive Sit Stand Desks
An office space should look elegant and professional.  But stylish doesn't mean it should go without contemporary amenities to look good.  There is a large selection of executive sit and stand desks that will match any office décor.
| | |
| --- | --- |
| Return Option | Left Hand – When Seated, Right Hand – When Seated |
| Warranty | 3 Years |
Executive standing desks come in a variety of finishes with several different storage options.  Some come with attached credenzas, while others have built-in drawers.  Products similar to Primo Executive Electric Height Adjustable Desk are excellent when adding style to the sit-stand desks' health benefits.
7. Vertical Height Adjustable Personal Desks
Vertical Height Adjustable Personal Desks are ergonomically designed to allow users to modify the desk's height according to their preferences. This adaptability promotes comfortable sitting or standing positions, reducing strain on the body during prolonged work hours. These desks often feature motorized mechanisms or manual adjustments, enabling users to switch between sitting and standing positions effortlessly.
This flexibility not only enhances comfort but also supports overall well-being, potentially reducing the risk of musculoskeletal issues and boosting productivity by accommodating varied work preferences. Products like Vertical Height Adjustable Personal Desks are therefore a valuable addition to modern workspaces, prioritizing user health and productivity.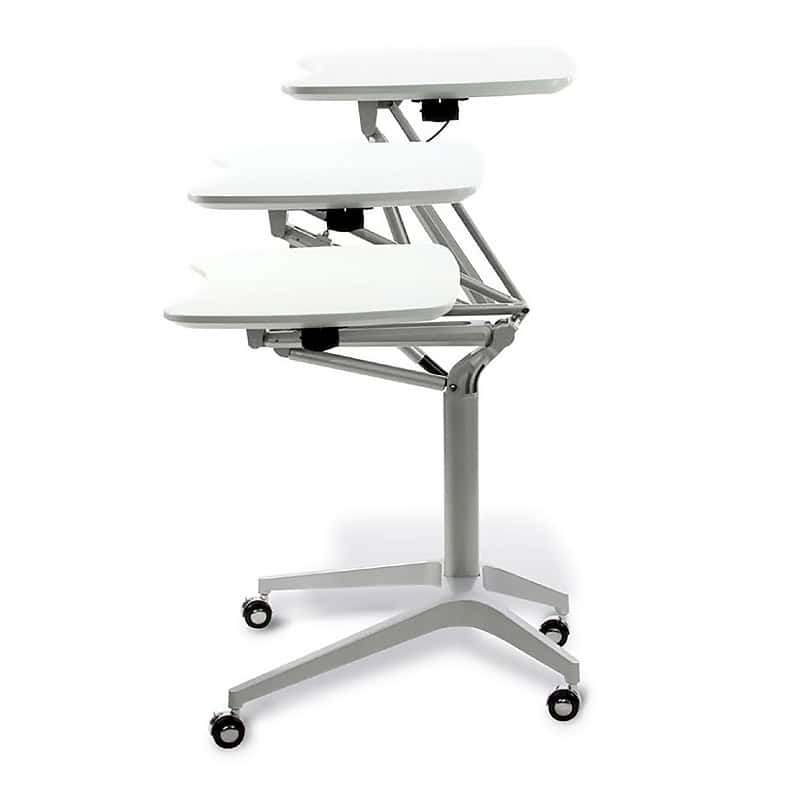 | | |
| --- | --- |
| Desk top size | 715mm wide x 475mm deep |
| Desk top color | Gloss White |
| Height adjustment | 735mm – 1050mm |
Conclusion
The one thing that remains consistent about office workspaces is that there will always be trends to help workers stay healthy while increasing output.  Standing desks are one trend that does this.
The ROI on converting your office space to adjustable height desks is far more than dollars and cents—it's keeping your employees healthy.  Just look at the benefits:
Reduced shoulder pain
Helps lower back pain
Combats obesity
Lowers chances of diabetes
Slows down cardiovascular disease
Helps prevent cancer (especially cancers of the colon or breast)
Combats premature death
Encourages staff retention
It makes sense to study the trends above to find the right type of height adjustable desk to suit your business.  Remember, you are not just investing in your business by upgrading your space; you are investing in your employees' health which will keep your company running smoothly for a long time.