Sitting is one of the major problems of the modern age. More and more companies are introducing height adjustable desks for the sake of their employee's health purely. Height adjustable desks are essential to the improved health of employees who spend their entire days sitting on their chairs at their desk. Today, adjustable desks come with a host of features that can make them a pleasure to work on. So, there is a range of customisation options that would suit your needs. Read on to find out which are the best electric height adjustable desks that you can get for yourself and your employees.
What is the electric height adjustable desk?
These desks are typically powered by a linear motor, which makes it convenient for the user to change the height just with a press of a button. Earlier, the desks used to come with a manual crank handle operation function. However, the electric adjustability offers ease and complete customizability for the user. They are also quick and offer unbeatable performance. Adjustable desks come with a host of features. These are important to understand before you go about replacing your conventional home office furniture desks altogether. Of course, with the features, the price also differs for these desks, so it is important to consider your operating budget while selecting the desk.
1.  Smart Electric Height Adjustable Sit Stand Desk
The reason why the Smart Electric Adjustable Sit Stand Desk tops the list is because of its affordable price point as well as the customisability it offers. With perfect edgings, cable entry ports, and stiffening rails, the structure of the desk is perfectly sturdy, durable, and has got utility. It also comes with a perforated modesty panel. This is to provide a privacy shield and breathability in the legroom area. Talking about its adjustability, it comes with a push-button controller for the ease of adjustability. Say goodbye to manual winding.
With height adjustable desks, it is important to consider the movement and the noise. The Smart desks' movement is super smooth and quiet. Employees can thus adjust according to their changing demands and working requirements throughout the day. It also comes with customisable drawer options which the user can choose as an option.

2.  Primo Executive Electric Height Adjustable Desk
This is a prime heavy duty desk, which comes with two motors and three leg mechanism. The height range for the desk is 660mm to 1310mm. These height adjustable desks are the whole package as they are available with personal storage, file drawer, and cupboard. Cable wire entanglement mess bugs you out? This desk comes with cable management functionality as well. The storage units can also be customised according to the right hand or left-hand users. The desk comes with a 3 year warranty and with all the functionality and safety features.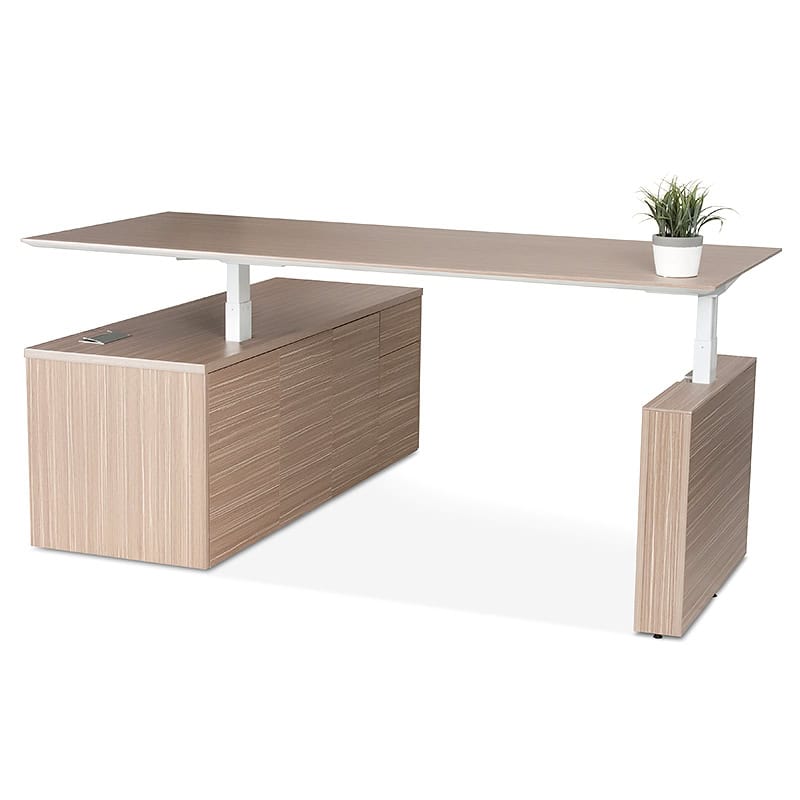 3.  Arise Electric Height Adjustable Sit Stand Desk
The Arise company's electric eight adjustable desks come with a variety of colour options. For those looking for long term guarantee on the home office furniture investments, this product comes with a ten-year warranty. Twin motors support the heavy weight and increase the functionality. The desks are stylish and simple to look at but come with a host of features. These features include push-button height adjustability, a controller with a digital display, and a pre-set memory feature.
These features come in super handy for everyday use. The height range comes in from 645 mm to 1275. The user can set at any desired height within this range. These desks also come with an alarm to alert the user when they have been sitting for too long. Safety cut out feature is included to provide anti-collision safety.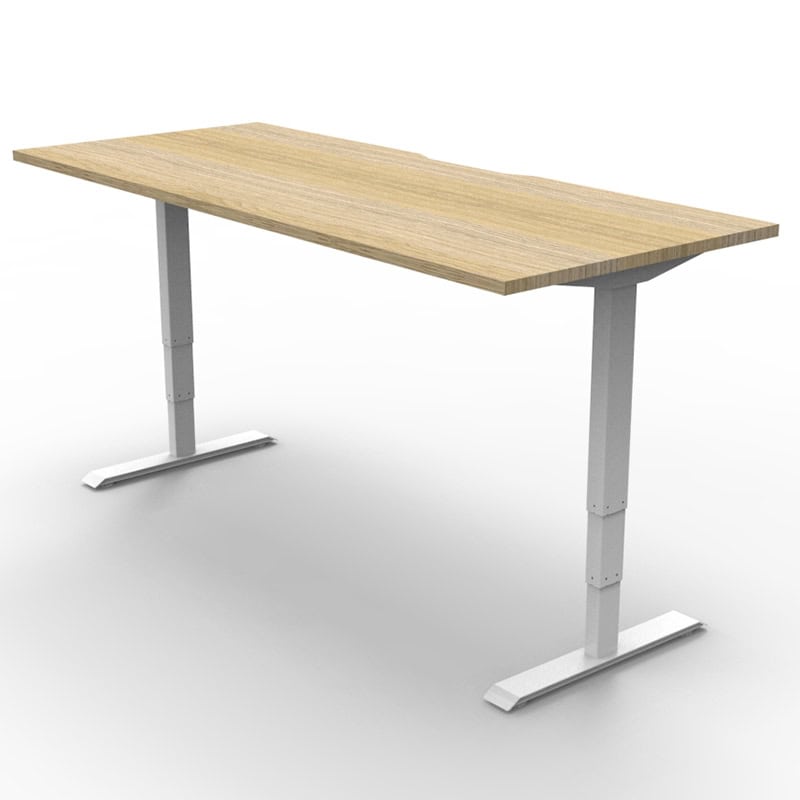 4.  Deluxe Executive Electric Height Adjustable Desk
If your office and its style reflect all that is ultra-cool, trendy, and tech-savvy this is your go to desk! These height adjustable desks come in attractive neutral colour schemes for the contemporary office style. The storage unit comes with a personal drawer plus a file drawer and two hinged cupboards. The desk top comes with a stylish shark nose edge detail and an added credenza carcase and a modesty panel. Nothing says executive like this desk, which gives the full functionality, utility combined with aesthetic.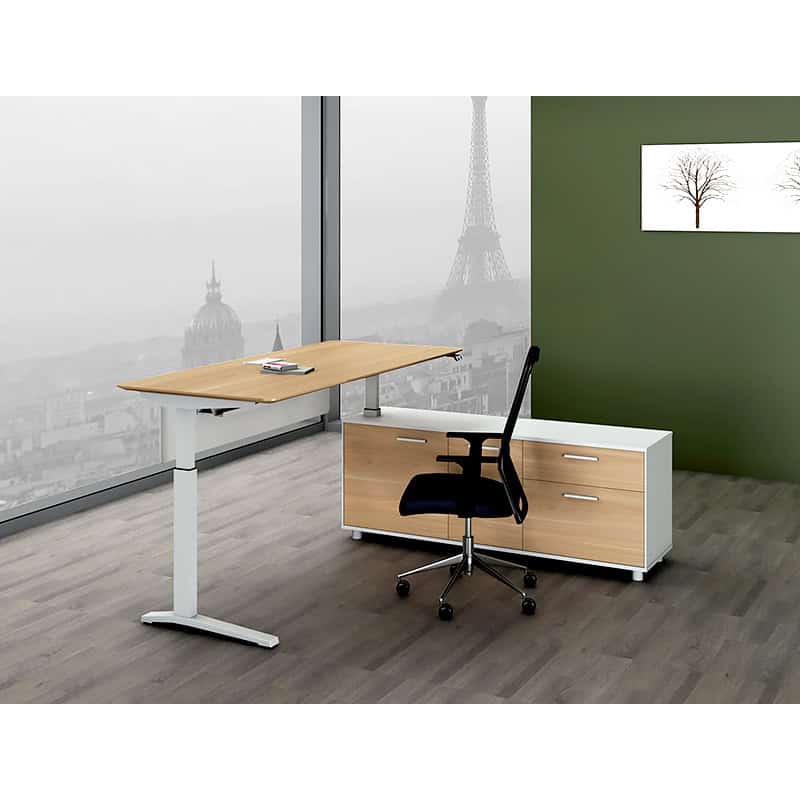 One thing to note is that if you are interested in the desks but replacing the entire home office furniture does not suit your budget, go for the desk frames. You use your existing desk tops and get them fitted to the frames. This saves a ton of cost for you with the technical savvy functionality and utility of the standing desks. Most companies today consider it unethical to not be considerate of the working conditions of the employees. Sitting for long hours invites a whole range of lifestyle diseases. So if you are a conscious organisation, think of selecting the right home office furniture and making the change today. Opt for home office furniture of premium quality available at Value Office Furniture. Optimum quality furniture for your office needs.