Last updated on May 16th, 2023
Office chairs are a staple in offices all over the country. Mostly, we don't think about our office chairs too much – we sit on them daily, carry out our tasks and repeat them the next day. However, if you do not have the right chair for your particular needs, or you have the right chair but the settings are wrong, it can open the door to all sorts of health and well-being issues. Back or neck pain is usually the first sign that we have a problem and that we need to examine the root cause! Very often, our office chair is one of the culprits. It is therefore vitally important to choose the right chair.
How Do We Identify the Right Chair?
Well – there are a few factors that we can take into consideration. Let's have a look at some of these important indicators now.
1. You need to ask yourself how often – and for what period of time – you use your chair. Is it five or more days per week? Do you sit in it for eight or more hours per day? If the answer is yes to either of these questions, you will need to purchase a chair that is fully ergonomic. In other words, a chair that is fully adjustable to suit the needs of different people. Adjustments usually include a gas lift – to cater for people and desks of differing heights; a back height adjustment (chair back goes up and down) and an independent back and seat tilt (chair back and seat can move forwards and backwards independently of each other). These adjustments will enable 99% of people to find the most suitable and comfortable settings, irrespective of their height or weight.
If you have a serious back or neck issue, we recommend visiting your GP or Physiotherapist for some guidelines before purchasing a chair. You can then pop into one of our showrooms to try out some suitable options. These visits are by appointment only, so just give us a quick call on 1300 VALUE (1300 008 258) and we will organise it all for you. Please note that some of our chairs have been endorsed by the Australian Physiotherapy Association. Just ask us and we will identify them for you!
The good quality seat foam is generally overlooked but is a very important component of all office chairs.
An ergonomic office chair, for example, that is used in a commercial environment over a 5-year period, will probably be sat on at least 25,000 times!
As you can imagine, the seat foam will take a lot of wear and tear over that period, so it must be of good quality. Moulded seat foams are generally regarded as the best option. They are usually quite firm – to withstand 25,000 sits, but also provide very good comfort and support.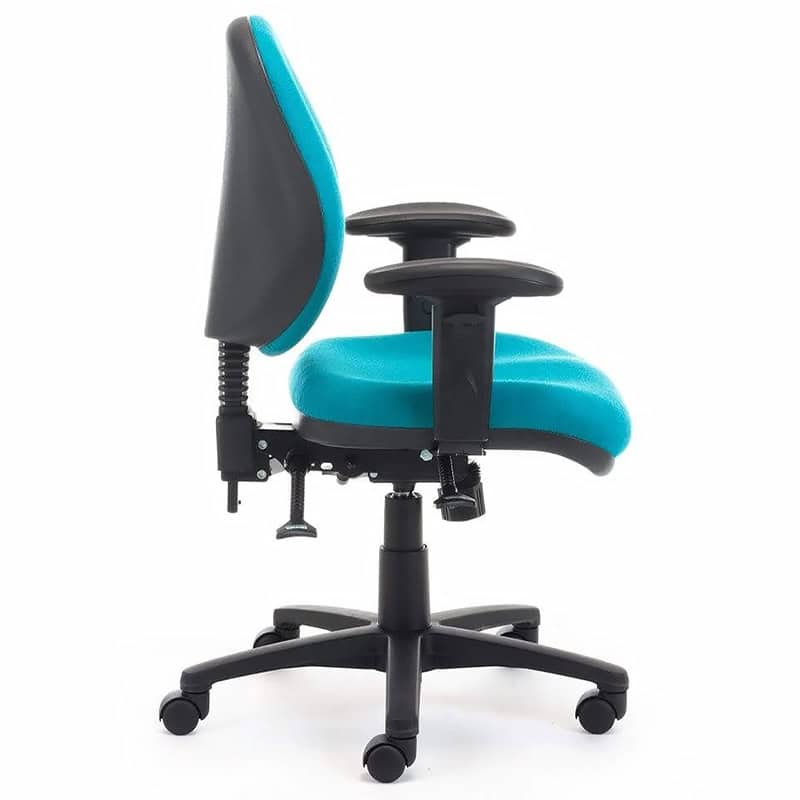 For tall people i.e. those who measures 180cm or more, it could be beneficial to purchase a chair that has a seat slide option. The seat slide mechanism provides additional support to the back of the upper legs, thereby reducing strain on the back. We have a number of chairs on our website that offer a seat slide option. If you have any questions about the seat slide or any of the other adjustments and settings, please give our friendly team a call on 1300 VALUE (1300 008 258) and they will be happy to give a more detailed explanation.
2. Another consideration is whether to have arm rests on your chair or not. There are several types of chair arms – including fixed and height adjustable. Fixed arms cannot be moved and remain in the same place. Many boardroom or meeting room chairs as well as visitor chairs have fixed arms (or no arms at all). Height-adjustable arms can be moved up or down (and some even move sideways), to offer the most comfortable position for different users. Having arms on your chair can be a very personal choice. We have some chairs which offer the option to remove the arms altogether or add them afterwards (some require no tools) if you change your mind. Visit our website to browse our selection of ergonomic chairs.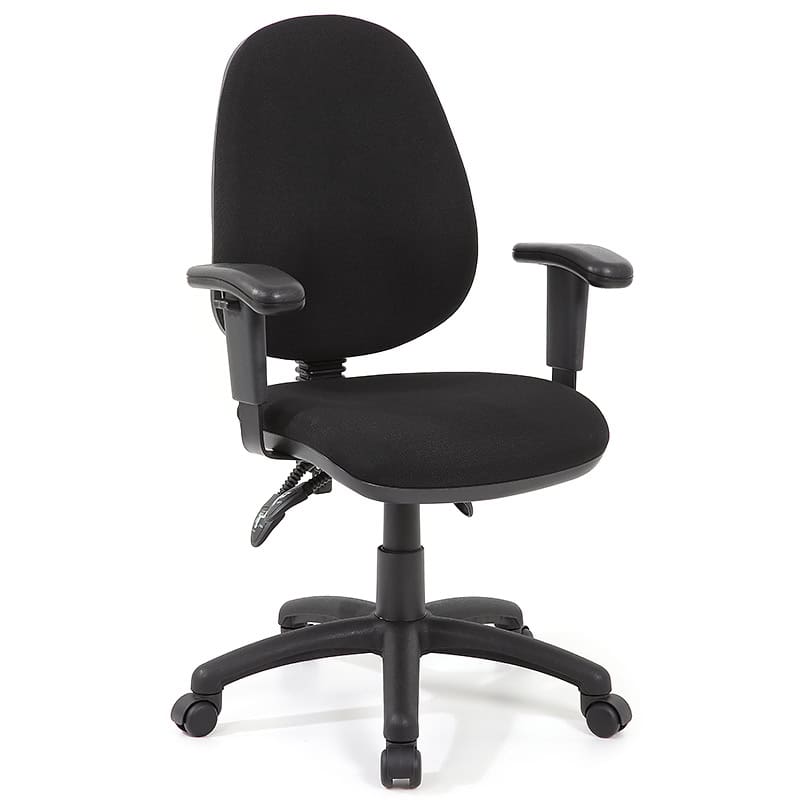 3. Another option to consider is whether to choose a mesh back office chair or a fabric one. If you work in a warmer climate, you may prefer the breathability that a mesh back chair offers. Modern mesh back chairs offer all the ergonomic benefits of a fabric chair back, so the choice comes down to purely personal preference.
If you want additional peace of mind, you could choose one of our accredited chairs. We have a dedicated page on our website highlighting chairs that have an AFRDI certification. These chairs have been independently tested to the highest standards and only the very best chairs will receive the coveted AFRDI blue tick. They will generally be fully ergonomic, robust in construction and many will carry a comprehensive warranty.
4. If you are thinking of purchasing six or more chairs for your office, you may be interested in our FREE Trial Chair offer. This is a no-obligation offer that enables you to choose up to three different chairs to trial in your workplace. This can be a big help when you are not sure exactly what chair will be right for the majority of your colleagues.
Choosing the right chair can be a complicated and confusing process, but hopefully, after reading this article, you will have more confidence in doing just that. As always, our friendly and professional team will be more than happy to help you with any questions you may have. Give us a quick call on 1300 VALUE (1300 008 258) or email us at [email protected] – we are ready to assist!