Office desks, along with office chairs are probably the most important items in any modern office. The critical things to look out for are design, ergonomics, construction, integration with other furniture items (screen dividers, drawer units, electrical components etc.), and the ability to add to, or reduce desk numbers later as requirements change. Desks are available in many shapes and sizes – independent single desks, back to back pods or clusters, corner workstations both small and large, and of course the extremely popular height adjustable sit-to-stand desks. Please feel free to browse through our extensive range.
Are you shopping for an office desk, but have no idea which one to buy? Office desks are one of the most important pieces of furniture you can add to your office. They are the focal point that needs to be ergonomically designed for comfort, robust and offer good practicality too. Read on to learn how to choose an office desk that ticks all your boxes, and answers the commonly asked questions that our buyers have. You'll also learn why you should buy your next office desk from us.
How to choose an office desk?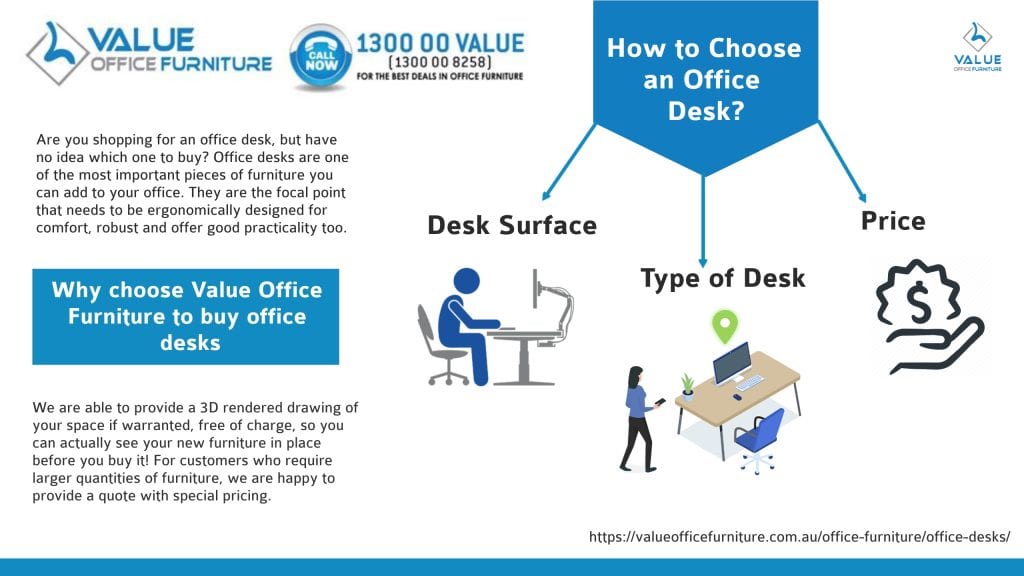 How will you use your desk?
Before you are able to choose the right desk you need to figure out how it will be used. For example, desks for home use with limited space should be smaller than office desks where there is a lot of room to work with.
Once you have a visual image of where your desk will be stored, what will be placed on top and who will use it, then you are on the right path to choosing the right one.
Type of desks
The first decision to make is the type of desk that you pick, and here are the most common ones:
• Corner office desk: as the name suggests, corner office desks are suited for corners. They have a 90 degree angle that slots in perfectly into the desired space. However, you can use office corner desks anywhere in the office that makes the most sense.
• Built-in desks: these are attached to walls and other furniture, which allows them to be integrated into the office. It is a space saving measure that might be the best choice if you have limited room.
• Multiple work stations: are you buying for a team of employees to work in a tight knit group? Then consider desks with multiple work spaces. These desks also save space and help groups of employees work together based on their roles.
Price
Consider your budget, and how to get the most bang for your buck. You can get great deals when you shop around. However, don't always go with the cheapest office desks on the market since you may have to replace them more frequently than you would like. Solid wood desks are an option that also provides good durability and longevity – for long term use.
Furthermore, consider buying in bulk if you need to fill a large office space. We offer discounts for bulk orders, so the more you buy the more you save per unit. Get in touch with us to find out how much you can save on the office desks of interest. We love making deals!
Desk surface
The surface contributes to the durability and feel of the desk while working. Here are 3 of the most common desk surfaces:
1. Timber: timber based desks and tables, or 'timber veneer' can be very attractive. However, they can also be prone to damage if you opt for one at the low end of the market. Solid wood tables are the best choice if you want long-term durability, but do require maintenance from time to time.
2. Metal: these tables don't always provide a professional look that's suitable for executive offices. However, they are great in high traffic areas for long term use. The excellent durability means metal office desks are perfect if you need to place heavy items on them.
3. Melamine: this is a plastic laminate finish with a particle board or MDF substrate. It's also an affordable choice that offers the best durability and a good choice of colours and finishes. Opt for high pressure laminates if you want long-lasting durability.
Ergonomics
The average office workers generally sit for hours at a desk in the same position with little moving around. Therefore, desks must be ergonomically designed to avoid injury. Here are note worthy factors to consider:
• Space: around 1 metre of space is required for your feet. Also, at least 1 metre around the table should be provided for the office worker to sit down.
• Desk height: around 720mm to 750mm is more than enough for the average office worker in terms of desk height. The leg clearance means employees can sit comfortably without having to bend their legs awkwardly.
• Computer use: will the table be used for working on a keyboard? Then the table height must be chosen accordingly for the person. Too high or too low and muscle pain or fatigue will set in sooner.
• Space: choose a desk that can easily store all required items and leave room for unforeseen storage requirements.
Why choose Value Office Furniture to buy office desks
We have a large selection of office desks in Sydney, which means you can find the model, size and configuration that matches your needs. Choose a small laptop desk or a larger office unit suitable for multiple employees. We even provide electrical kits that can integrate with the desks to provide phone, data and power solutions.
Not sure if the office desk will fit or look good on your property? We can create 3D rendered drawings of the furniture in your property. This gives you a preview before buying. Finally, you can buy in bulk with us for a special discount price, that you will find hard to beat elsewhere.
We have been careful to include a range of desks to suit the most discerning tastes! We have small laptop desks, computer desks, student desks, and large back-to-back pods with an unlimited capacity to add more desks. We even have electrical kits that are designed to integrate with our office furniture to provide a convenient power and data solution. If you have any queries, or would like some advice from our experienced staff please give us a call. You can also email us a dimensioned sketch of your space and we can work out how best to utilise the area.
We are able to provide a 3D rendered drawing of your space if warranted, free of charge, so you can actually see your new furniture in place before you buy it! For customers who require larger quantities of furniture, we are happy to provide a quote with special pricing. We are able to deliver new furniture via a network of local warehouses in most states across the country. This allows us to delivery quickly and efficiently anywhere in Australia. We also offer an professional and economical assembly service, just call our team for a quick quote and advice.
So, give us a call today on 1300 00 8258 for more information on how to buy your next office desk.
FAQ
Q. How can I be sure that the office desk will fit in my office?
A. The dimensions of all our desks are displayed in the description. Get your tape measure out and figure out how much room you have to work with. Also, consider that you need to leave adequate space around a desk for the person to sit and for foot traffic. We also provide 3D rendered drawings with the furniture in place your property.
Q. Are the desk the same as in the pictures?
A. Yes! Our photos are a realistic representation of what the office desk looks like. However, you will need to assemble them with the included assembly instructions, or we can assemble for you. Just ask us how
Q. I'm not sure what desk to choose, can you help?
A. Yes, give us a call on 1300 00 8258 or send us an email. Mention your list of requirements and how the desk will be used so we can provide the best recommendation. We'll get back to you quickly